Cedar Falls | Inducted 2014 | Category: Club Professional/ Professional Player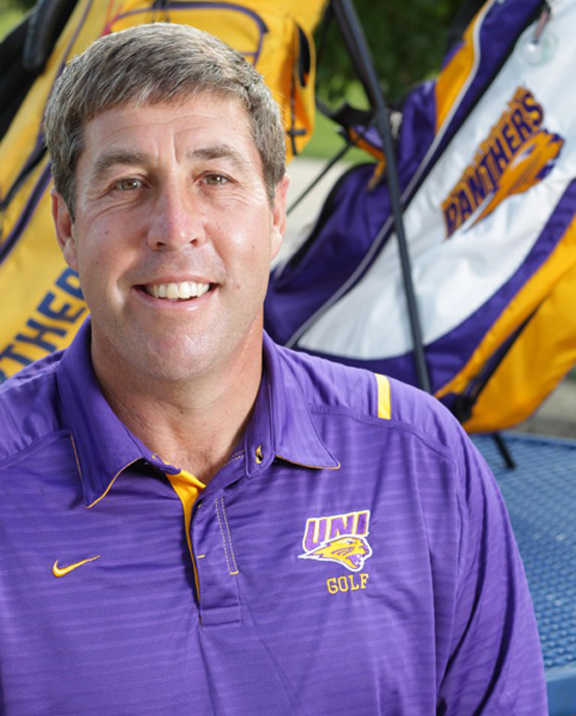 Successful as a college player, a club professional and Division I college coach, John Bermel's involvement in golf has spanned more than 40 years so far. His playing career began in high school and he attended Central College in Pella where he earned NCAA Division III All American honorable mention in three of his four years. He helped Central win four Iowa Conference team championships and earn four NCAA Division III tournament appearances. Bermel was inducted into the Central College Hall of Honor in 2013.
The Keota, Iowa native turned professional after college and served as an assistant professional at various clubs in Iowa until 1990. From 1990-95 he was the Head Professional at Beaver Hills CC in Cedar Falls. In 1996 he was named the Head Men's Golf Coach at the University of Northern Iowa and became the Head Golf Professional at Pheasant Ridge Golf Course. Bermel continues to hold the Men's coaching job at UNI and has also been Head Coach for the UNI Women's team since 2002.
Despite his extremely busy schedule Bermel has always competed at a high level in Iowa Section competition as well as nationally. He has qualified for 16 PGA National Club Professional Championships, and has finished in the top 25 four times. He won the Iowa PGA Section Championship four times (1993, 2000, 04 and 05) and the Section's Senior Championship twice (2012, 13).
He has twice competed in the PGA Championship, one of professional golf's four majors. He competed at Southern Hills Country Club in Tulsa, Okla. in 1994 and Valhalla Golf Course near Louisville, Ky. in 1996. Bermel also qualified for a major on the Champions Tour in 2012, playing at the U.S. Senior Open at Indianwood Golf and Country Club in Lake Orion, Mich.
According to his peers John's greatest contributions to golf have come as a leader in junior golf and growth of the game. He has directed the Iowa PGA Junior Golf Academy since 1999 and received the Section's Junior Golf Leader award in 1999 and again in 2007. He has also received the Iowa PGA Teacher of the Year Award (2000), Labron Harris, Sr. Award for Coaches (2011), the Iowa PGA Professional of the Year Award (2012) and the Iowa PGA Horton Smith Award (2013).
Jeff Smith, 2013 inductee to the Iowa Golf Hall of Fame, has known John since the start of his career. In his letter of recommendation to the Hall of Fame Committee Smith stated that Bermel is "a leader in growing the game through his public facility with strong emphasis on junior and college golfers."
Jim Hasley, a 2010 inductee made the following observation: "He is the ideal of what a person can accomplish as a player, junior leader, administrator, coach and community leader. John wears many hats and they all seem to fit because he keeps his head on straight."